Our customers are put at the heart of our organisation. Van de Velde has a female-only clientele, a valuable given which we treasure. We are proud to guide women through every stage of life, with superior quality lingerie.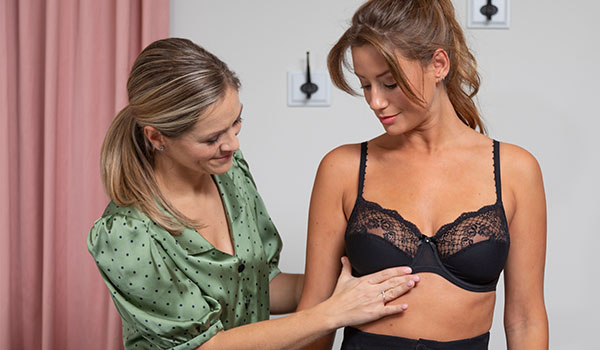 Lingerie Styling
We believe in inclusivity and create lingerie with a perfect fit for all sizes and shapes. We are proud of our Lingerie Styling program, a powerful tool which we developed for our retail partners to help women find lingerie that fits them perfectly.
Lingerie for women with and after breast cancer
The fight against breast cancer is close to our heart. Perfectly fitted and beautiful lingerie helps you feel feminine and confident after a mastectomy or other breast surgery. That is why our brands PrimaDonna and Marie Jo give you the opportunity to have a new bra changed to a prosthetic bra after purchase. All their iconic styles have customizable patterns, so you will receive your comfortable prosthetic bra within two weeks. This enables women to wear their prosthesis discreetly and comfortably, with the support of a bra from their favorite brand. Stop by your favorite lingerie boutique for more info.
Radiation bra
We developed a special radiation bra for Ghent University. This bra, which is currently being used in several hospitals, protects the healthy breast while the other breast receives radiation.
Van de Velde is a family business with a big focus on responsibility towards society.
Charity
We support local projects and charities dedicated to women and children. We also encourage our employees to engage in charity or fundraising events, such as "De Warmste Week".
Supporting culture
We provide (vintage) lingerie for theater, television, film productions and art exhibitions. We also donate left-over fabrics and products whenever possible.